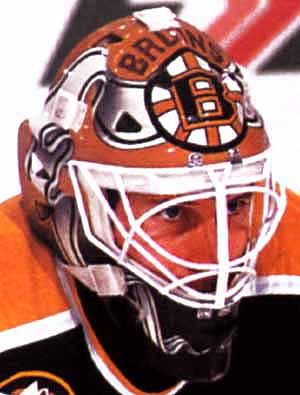 Visitor Feedback
What you, the fans, have to say about Biller
---
1/3/01
Wonderful web page! I just wanted to add that I have been a Biller fan for about a year and a half now. I have had the privilege, and I truly mean privilege, to have met and spoken with him on several occasions. Not only is he the consummate professional everyone here has described, he is also personable, gracious with his time, one of the funniest men I have ever met, and darned handsome! He is quite obviously liked by his teammates, judging by the good natured ribbing he takes
from them at practice. He is analytical during pre-game skates, studying the opposition as if he was about to wage war. But my best image of him is that of a
man who genuinely wants the team to succeed, and the fans to have fun.He has fun along the way - and he has earned the rights to every accolade printed about him on your "articles" page. I go to games to watch my team, the Washington Capitals, play. I go to practices to watch Biller, my favorite Capital. Word of
warning - don't ever cheer when they "score" on him in practice - you might get "yelled at" when he comes out of the locker room! :)

Deby in Washington

---
4/22/00
Just wanted to let you know that I am a Capitals' fan and last month I went to watch them pratice; and afterwards Craig Billington gave us his autograph. We saw him play last November vs Nashville - he is really a nice person. Anyway, I enjoyed visiting your web site!


Adam
---
4/22/00
Hi Stephen: Your Biller website is great! I discovered Biller when he came to Boston in 1995 (my husband is a diehard Bruins fan). I admit, I started liking Craig because he was cute and my husband was pleased because I was watching games with him-but the more I learned about Craig through Boston Herald articles and bits of information provided on NESN, the more I grew to respect him as a person. His work ethic and the manner in which he conducts himself is nothing short of inspiring. Since 1995, I have collected his cards and also hang a Biller hockey card in my work cubicle for career inspiration. I can sort of relate to Craig's NHL career path as my performance appraisals at work have always classified me as "solid", "dependable" and "a true team player". I have also been moved to various supervisors for these reasons (sound familiar?). Anyway, I thought that myself, along with my best friend (she's a big Biller fan too), were the only two people that appreciated Craig Billington as a goalie and as a person. It's nice to know there are others out there that see what we see. Once again, thanks for making it possible via this awesome website!
Sincerely, Lisa
PS--My 4 year old son may soon be the youngest Biller fan! He's asked me several times, "Who's Billington?" Between me and my friend, we'll get him on the right path!!!!
---
8/2/99
Just happened across your page & thought I would do my goodbye to Craig here...As a resident of Denver Colorado I have come to respect the talents of Craig Billington tremendously.He always gets the job done, with no complaints for being in the shadow of Roy.I had the good fortune to meet Craig on a couple of occassions & he is by far one of the nicest pro.athletes I've been around.I hate to see him go,but I think in the long run it will be the best thing for him. Maybe this way he'll get a little more ice time & the chance to learn from another one of the games best goalies.So long Biller,we're all gonna miss you here in Denver! I wish you the best of luck in Washington, except of course when you play against the Avs!!!
Peace, Tigerlilly
---
5/13/99
Hi,
Our son is going back in July for his second year at Craig's goaltending school. He had a great experience last summer and can't wait to go back this year.
You definitely have picked a wonderful person as your favorite hockey player. Although Jeff Hackett (Canadiens goalie) is my son's favorite player, Craig is right up there on the list behind him after he had the opportunity to get to know him last year. He is great with kids and a wonderful instructor and role model.
---
4/5/99
Hello:
I have enjoyed wandering about your Craig Billington tribute site on the web. A nice piece of work.
My son, Kristian, is going back to Craig's goaltending school for the fourth time. Because of our close contact with Craig over those summer weeks, we always try to follow his play in the NHL and cheer him on from a distance even though he can't hear us.
For anyone considering his school, I consider it to be one of the best. The goalies are always busy, even when they're not in the net. Craig loves to help the kids - but hates the parents! I can live with that quirk when I see Kris improve with each day with Craig.
I think Craig would be a fine front line goalie for any team, but he has been pigeon-holed as a backup goalie and doesn't get the consideration he is worthy of. Too bad!
Thanks for giving me the enjoyment of your Billington site.


---
3/10/99
As a long time Bulls' fan, (a season ticket holder since 1982), I am most pleased to see that some former Bulls are thought of so much by their fans that web sites are dedicated to them. Your site about Craig Billington is * E X C E L L E N T *. You would be happy to know that Craig was recently named the Bulls' all-time goalie, and we have had some excellent ones.
---
3/14/99
Stephen,
Glad to know that Biller is appreciated! he's a good guy, very nice. I'm sure he's happy to know that even though he doesn't get the media attention some of the other players get, the fans appreciate him. i guess you are a bruins fan. i am a die hard avalanche fan (as you could tell from my email address...RoyPer33@aol.com).
keep up the good work!


---
3/13/99
Hey,
I just wanted to compliment you on your very cool tribute to Biller! As you can see by my address (Billersgrl@aol.com), I too am a Biller fan, although not quite as long-time as you... since he came to my hometown Avalanche I have been very impressed with him, mainly as a goalie since I haven't had the privilege of meeting him, although I've heard nothing but good stuff about him off the ice as well. It's been great this last week seeing him being so awesome in goal... last night Mike Haynes, the Avs' radio play-by-play guy, commented that he hoped Roy could live up to the standard Biller had been setting lately! Keep up the great work, and go Biller!!
---
11/30/98
I am a goalie's dad..and have sent him to Craig's camp for 2+ years. His school is for the kids.....HE DOESN'T LIKE the parents around because he feels they are in the way (my own opinion).
The camp is so well structured that each time my son is there he comes back so enthused, I can't keep him off the ice.
Craig was here in Washington D.C. last season for 1 game and he made the effort to call my son to say hey..............We were abe to see him after the game..always a pat on the back and a word of confidence for a kid........
NOW THAT'S A PRO
(ed. note: This is by far the coolest thing I've heard about Craig!!)
---
11/15/98
hi,
I was surfin for some new goalie equip. and ran into your page. I am just getting back into the game after a 4 yr. layoff. I attended Billers' camp in Gravenhurst? Ontario in the early '90s. He was with the devils and i had the pleasure of seeing him play in Utica, NY near my home town. He has a sound school and is a dedicated individual. I am very happy to see him still in action.
best to you and i will keep up-to-date with your page.
---
11/10/98
Hi,
Your article definitely tells it like it is. Craig is one of the nicest guys around and is an excellent role model. I met Craig in High School in London and he was a down to earth guy then about his success. It is too bad that he doesn't receive more publicity. Stars shine in many different ways.
---
10/18/98
Hi Stephen,
I just finished reading through your Craig Billington Tribute page and was truly impressed.
I have been a Billington fan ever since his Ottawa Senators days. I worked in the building that he lived in, so I got to see him everyday. I went to as many Senators games as I could and, although I was sad to hear of his trade to Boston, I was happy because I knew that it was a great career move for him - being traded to Ottawa seems to hurt, and not help, NHL players' careers.
I "followed" him to Boston (and bought myself a Bruins jersey with a number 1 on the back and sleeves and Billington across the shoulders) and then to Colorado (where I got myself an Avalacnhe jersey decorated the same way) and was ecstatic for Craig when they re-signed him and also gave him the raise he so well deserves.
I have binders full of articles on Craig and collect as much as I possbily can on him. I read all the other messages that you received and one mentioned Craig's own website. Would that be the one for his Goalie School, or does he have his own personal website?
Anyway, thanks for sharing all the information that you have on Craig with the rest of us. He is definitely a star on and off the ice. I'm sure Craig fans everywhere join me in wishing him the best of luck for two more (at least) outstanding seasons with the Avalanche!
If you or any of your other readers wish to discuss Craig, or anything else, with me please feel free to e-mail me at (in tribute to Craig): avsgoali@yahoo.com.
Thanks, again, for a wonderful tribute!!
---
9/22/98
hello...not much more can be said about your site and detailed interest in Craig's career. I haven't really being following him lately but i'm glad to see he resigned with Colorado, although now being in Ottawa, i would like to see him still here. I first became a fan on Craig's when I was in elementary school and went with my mother to the Belleville Bulls games...we had season tickets! In grade 7 we were forced to do a oral presentation and i chose craig as my subject. I went over to his billets one night and squeaked out some questions. He was a super nice guy and was humbled by my gesture. I still may have the tape of the interview somewhere. He was definitely a fan favourite when he played in Belleville.
Anyhow, great site and I hope Craig all the best in the future!
---
9/20/98
Dear Stephen,
My name is Monika and I just found your site on Craig Billington. I thought you did a wonderful job and was impressed. I've been a die-hard Bruins fan for a number of years and became a fan of Biller when he arrived a few years ago. I even had the opportunity to meet him in Boston. He was very warm and friendly toward my mom and myself. He could see I was nervous but he immediately knew how to put me at ease. I even spent a good 25 minutes talking to him about his career and my future plans! I was quite upset when the Bruins let him go but I'll always be a fan of his. If you want to talk about him, you can reach me at : mhmcelli@mtholyoke.edu. Bye!
Yours,
Monika
---
9/2/98
Well, it's nice to see some attention played to one of the unsung heroes of the game (and Lord knows there are so many players who have had their contributions to hockey go virtually unnoticed), but I can't claim to be completely impartial as Craig happens to be my stepbrother.
I was actually updating my "favourites" folder on my browser and saw the address for your tribute page and I couldn't resist checking it out. Imagine my pleasant surprise when I entered your site and found all the fantastic things you've written and searched out about Craig.
I know that Craig is gearing up for another season in Denver, but I'll try to make him aware of your site (although he may already be) and let you know what he thinks of it, if he doesn't get the chance himself (I hope that doesn't come off sounding too pretentious, I think its great that someone cares that much about this type of player. I know we could use more in hockey today).
Warmest regards,
(ed. note: Thanks for the visit, Robert! I've gotten a few hits from people who know Craig personally, but this is a first from a relative!)

---
4/17/98
"Hi, I'm glad to see that I'm not the only one in the world that is a Craig Billington fan. I'm an avid hockey fan, but mostly I watch the Colorado Avs. Well, needless to say, I was pretty excited when we acquired him as our backup. I'm pretty new to being on-line, so I haven't seen very many pages, that really interested me, but yours is nice. Was it just me or do you think it was completely unfair when Billington got ejected from that game for throwing the stick? For all the penalties that go on in hockey, I would have thought, that Billington would be the least of the referee's worries. Keep up the good work, now if only I could find somebody to start a page on my favorite player, who is also one of the NHL's most underrated players (Eric LaCroix, Col)!!"
"Sincerely, The_redline@yahoo.com"
---
3/19/98
"I'd like to start off by saying you have a terific site! I've been a Craig Billington fan for about ten years now and never found anyone who appreciated him as much as I did. A lot of people laughed at me when they found out my favourite player is Craig but that didn't make me like him any less. I'm such a big Billington fan that I buy anything that I find that has him on it. I even painted my street hockey helmet to look like Craig's Colorado helmet. Craig's mother was my kindergarten teacher in London, Ontario and that's how I first became interested in him. I think he's a very underated goaltender and doesn't get the credit he deserves. He's having a terific season this year and hopefully that will help him land a job next season if Colorado doesn't sign him for another year..."

"Once again I love your site and I'm glad to see that there are other diehard Billington fans like myself."
- Dave Agnew
---
3/11/98
"It's about time one of the good guys is finally recognized. Being a Devils fan for a while, I was bothered by the trade to Ottawa. I thought he was able carry a team. However, one thing was proved in the long run, you need a great back-up to win the cup. Brodeur had Terreri and Roy has Billington. If you can't be a great starter (yet, don't forget Denis is coming, and expansion) be the best back-up in the league!"
"Keep it up, Dan Valinoti."

---
2/12/98
"Hi Stephen, I don't know if you have heard of Goalie's world magazine (it's Canadian) but in the February issue, Biller is ranked 11th in the NHL. He is considered the top backup in the league and the one who has the best consitency, based on a then games ratio. Here is what they have to say about him: "If consistency is Patrick Roy's motto, it has certainly rubbed off on his partner Craig Billington who is the best ranked backup goaltender with a 92.8% save percentage acquired in 10 good games in 12 appearences. Billington has been remarkable against Avs' archrivals, the Detroit Red Wings. He shut them out 2-0 on Nov. 11 (32 saves) at Detroit and he stopped them 38 times in a 2-2- tie at Denver on Dec. 12." - Jean-FranÁois Gilbert

---
12/4/97
"Hello Stephen, I just reviewed your internet tribute to Craig Billington...nicely done!!! While I've only been a hockey fan for about four years now, I became interested in Craig's career when there was the possibility that he would be playing for the Fla Panthers/Carolina Monarchs last season. I used to be a Monarchs season ticket holder in Greeensboro, NC...now I'm a Hurricanes fan by default!
I finally got to see Craig in person last Friday for the first time ever when the Avalanche came to play the Hurricanes. Although he didn't play, I was very impressed at how he took in everything going on and his interaction with the rest of the Avalanche team. He is definitely a class act...
While I didn't get to review every link on your web site, I did have trouble accessing Craig's profile on the Avalanche home page. I was hoping to find out more about his life outside the rink (other than the Goalie school). Is there a site that contains information on his education, family, interests, etc...or could you possibly send me this information???
Thanks for any information you can provide and keep up the excellent work you're doing already!!" - April Valerio

---
11/11/97
"I haven't followed his career like you have but the few times that I have had a chance to watch him play I have been very impressed. Watching him shutout the Red Wings earlier was great. He was very solid... I believe most fans don't understand what it's like to be a goalie. I am one myself and I can appreciate what it takes to play... seems like Biller has a good head on his shoulders. By the way, great site." - Jerry

---
11/11/97
"Hey, I suppose you saw the shutout tonight on ESPN. that was a great game. During the game I heard Bill Clement say something about Craig Billington having his own webpage. Would you happen to know the address of that webpage? Or if not do you know his email adress, because I just want to congratulate him on that great game...and ya have a cool page." - Joe
---
9/25/97
"Hi, my name is Pete Bentkowski. I'm killing time in a friend's office here in Ithaca, N.Y. I'm a resident of Denver, CO, so I was very interested when I came across your tribute to Craig Billington page. It is cool to see that you have spent the time to publish on the web something about one of my favorite players on the Avs. Craig is truely a class act, and yes a very underrated goaltender. Denver is fortunate to have the Avs. The Avs are fortunate to have Biller. My day was made when he signed for another year and I was happy for him that the powers that be saw fit to give him a $100,000 a year boost. I feel sorry for you that he is no longer a member of the Bruins. I'm sure that you miss his presence in Boston. I hope that at least once you were able to watch him play sportscaster on the late evening news. He occasionally fills in on Denver's Channel 7 (what a hoot!). He no doubt has talent not only as a goalie but also as a televsion personality. In this day and age when I find most professional athletes hard to stomach, Craig Billington and the Colorado Avalanche are a breath of fresh air. - Pete Bentkowski

---
9/3/97
"Hello. My name is Joe. I recently found your hockey site and was very impressed by your work! You have great passion for hockey and especially Biller and it shows via your site! Keep up the tremendous work!" - Joe Pelletier



Take a look at Joe's page - Legends of Hockey.
---
8/11/97
"Hi. I've been a fan of the Biller since I first saw him play here in Quebec City against the Nords back in 1993. All my friends make fun of me when I talk about him, but I don't care. I think that he is a lot better than what he has shown in the past [few] years. I hope he'll have the chance to play a couple of games this season.
"And by the way, I love your site and often visit it. I hope you'll find more pics of Craig." - J-F Gilbert

---
7/31/97
"I enjoyed your piece on Craig Billington- he seems to be a guy who's always there for the team, a characteristic becoming rare for professional athletes these days." - Ironhorse - a U.S. soldier serving in Bosnia

---
7/20/97
"Hey, cool Billington page. He was my favorite Bruin when he played for them." - Joe Casco
---
7/1/97
"Hi! I just wanted to say that you have a great page. Billington is a great goalie, I loved watching him here in NJ!!! Keep up the good work!!!" - Kari - Check out Kari's Kirk Muller Homepage
---
7/1/97
"I just stopped by your Billington website...Very nice job, I especially liked the essay you wrote...There are not too many guys like that left in the NHL anymore, not sure if there ever really was...
"Just wanted to let you know I appreciated your website, and I am going to add a link to it from mine..." - Jason Bau


Check out Jason's Netminder page.

---
5/29/97
"I wondered who could possibly be a big fan of Billington when I saw this new page up, but now I think he's an awsome goalie who deserves more credit then he gets." - Jim Law
---
5/28/97
"You had a great page, and to be frank, I was asking myself: Who the hell can do a Billington page?
"But then I read your page and I undertand. I think it is cool that some people are fans of players other than Eric Lindros, Bure and the all other big names...Congrats on your page, and keep up the good work!" - Magali Leroux.
---
5/27/97
"I just visited your Biller tribute and it is very impressive. You did an excellent job setting it up and your deep admiration for this selfless, talented team-player shines through. It would be wonderful if somehow Craig found his way to your site and could read all the nice things you have said about him.
Billington did a nice job coming into the game (Game 5, Avs vs. Wings) the other night. I can't say I was rooting for Colorado to win the series, but it would have been nice for Craig to have his name on the Stanley Cup after all he has been through. After tonight it is not to be...but he is a survivor. Whatever happens he will handle it with class. Thanks for putting his accomplishments into perspective for me." - Eileen Ledbretter (Stumpy2)
---
5/23/97
"Craig is a classic example of a former BRUIN, whom I wish nothing but the best for. He came to the BRUINS, put the team before himself, respected his teammates, accepted his role with the club, and moved on without leaving a wake of trash on his way. Best of Luck to Craig in the future." - Ian Wilson

---
"Hi. Ian Wilson suggested that I take a tour of the Billington tribute you've put together, and I've just done exactly that. I didn't know as much about Billington as you seem to, but I always had the sense that he was a team player, that he was the perfect guy to have in reserve, and that he would accept his fate without complaint or accusation. The information on your page only confirms this, and I'm even more disappointed now that he isn't still a Bruin than I was ten minutes ago." - Augustine Fennell.
---
Essays | Profiles | Statistics | Articles | Images | Hockey Cards | Biller-related Links | Visitor Feedback | Home